The first half of 2022 was a struggle. The S&P500 posted a 20.58% decline. Bonds were little comfort as the Ten-Year U.S. Treasury price fell 13.4% and High Yield bonds retreated by close to 10%. Inflation and fear of recession dominated the narrative. The average U.S. stock ended the quarter down 30%.
S&P500:                   June -8.39%,      2nd Qtr -16.45%,       YTD -20.58%
DOW:                     June -6.71%,      2nd Qtr -11.25%,       YTD -15.31%
NASDAQ:               June -8.71%,      2nd Qtr -22.44%,       YTD -29.51%
Russell 2000:        June -8.75%,      2nd Qtr -17.84%,       YTD -24.25%
Communication Services
-30.45%
Consumer Discretionary

-33.09%
Consumer Staples

-6.78%
Energy
+29.21%
Financials

-19.49%
Healthcare

-9.10%
Industrials

-17.49%
Technology

-27.25%
Materials

-18.69%
Real Estate

-21.24%
Utilities

-2.00%
Stocks are now closer to fairly valued. Inflation rates have declined in the past few weeks. Commodity prices have corrected along with Real Estate and Energy. Individual stock patterns are stabilizing. Price to earnings ratios pulled back to the 16.5x level in a relatively short order. In roughly two weeks, companies will begin reporting second quarter results. What will the reports look like and what will the forward corporate and analyst earnings guidance be? A softening can be expected. Analysts tend to be slow to shave corporate profit expectations and estimates for 2022 continue to rise.
We would expect at least a 10% pullback in 2022 second half estimates. The U.S. economy can handle the expected reductions. Currently, analyst estimates for 2023 for the S&P500 are $230.00ps. Following quarterly results and forward guidance, the sensitive election period will surface, and create stock market pressure.
Historically when there is a 20% market correction, the averages generally turn positive. On average, the market produces gains of 16% in the next year, and roughly 13% over the next three to five years. When a recession is involved, the markets have advanced 43% over the next five years. Despite recession, two thirds of the time strong gains are made during the one-year period.
Our view is the tide is turning. Low global interest rates with Fed and political support created excesses that resulted in exuberant valuations. Stock and bond prices were distorted. Sustainable value and normalcy is returning to the investment scene. The impact to the individual investor has been a painful process. The good news is we are recovering.
Our experience suggests that when investor patience prevails, coupled with good investment judgment, solid investment returns are delivered. The economy is stronger than skeptics attribute. Volatility will continue but we expect the second half of this year to deliver improved results.
After seven relentless weeks of largely negative volatility, stock prices appeared to finally come out the other side. The S&P500 touched bear market levels (-20%) and the DOW broke it's longest losing streak since 1923. The two indices finished May near to where they opened the month. Treasury bonds climbed for a third week.
The last full week of May benefitted from a positive report by Brian Moynihan, CEO of Bank of America, that consumers are holding up well against inflation. Account balances are increasing, and consumers are paying down credit card balances. Jamie Dimon, the CEO of JPMorgan Chase, indicated that the money supply had the largest decline in decades. The decrease in money supply will contract spending and reduce inflation prospects. The combined comments gave life to bank stocks. May performance was a welcomed flat market.
S&P500:        May +0.01%, YTD -13.30%       DOW:               May +0.04%, YTD -9.21%
NASDAQ:      May -2.05%,  YTD -22.78%       Russell 2000:   May +0.00%, YTD -16.98%
Communication Services -24.60%     
Consumer Discretionary -24.90%
Consumer Staples -4.0%                    
Energy +55.60%
Financials -9.50%                               
Healthcare -6.40%
Industrials -10.80%                            
Materials -5.40%
Real Estate -14.90%                           
Technology -19.70%
Utilities +3.30%
The inflation narrative keeps changing, reminding me of what a respected college professor once said to me. He remarked that economists should remember to make projections often.
The latest demands for Fed watchers to argue for a series of 1% rate increases to promptly tame inflation could be too aggressive with money supply numbers coming into focus. This could tip results negatively. The Fed is soundly on track with two half point moves and watching the impact. In addition to inflation and Fed actions, we have Ukraine, and China covid lock downs restricting global growth.
Our sense is that the prevailing uncertainties will require more time to be solved. However, we are getting closer. The ultimate signal will be when the Fed shifts on tightening and announces "all clear" on recession.
In the second half of 2022, inflation severity will clarify. China opening up will likely be in place, corporate earnings will be clear and supply chain factors will likely be behind us. The back-half of 2022 should allow market participants to make up lost ground.
May trading action suggests the stock market is de-risking. Earnings multiples have moved down to the 16x level for the S&P500. Now the question is the earnings number for the rest of 2022 and 2023. We are still selective and carrying high cash positions. The pressure has lightened on markets and the rally, so far, is still intact but choppiness will remain. Our favored companies are Value names with emphasis in the Energy, Financials, and Healthcare sectors.
Margins are a key to earnings projections. In Q1 2022 earnings slipped to 12.09% and will probably fall to the 11% range for Q2. This is why earnings estimates for 2022 and 2023 are concerning. When growth pulls back the earnings numbers follow. Analyst estimates still remain high for the S&P500 earnings, assuming 10% growth over 2021 producing $228 for 2022 vs $208 for 2021.
Most strategists are expecting earnings to come down. This would translate to lower stock prices, which in turn reduces consumer wealth and spending behavior. This encourages questions on projected earnings and further lowers stock prices, an important market variable.
On the positive side, corporate buy backs are rolling in; Apple $70 billion, Alphabet an $8 billion increase, Procter & Gamble $8 billion, Chevron $10 billion…the list goes on. The key factor to watch is the Fed action on rates. A slowdown in rate hikes in the second half of 2022 will bring relief, translating to higher stock prices.
The month of April ended with a massive market downturn. The Technology heavy NASDAQ punctuated the correction. The market action changed from Fed support to the recognition that they were behind the curve and had to shift to an abrupt inflation attack. Portfolio positioning flipped to protecting principal in preparation for rapid and significant rate hiking.
The Fed is starting their program with a 50-basis point rate increase, which will start to move through the economy and curtail demand. In the short run, we expect a positive market response to this rate hike which should relieve some market pressure. The impact of the shift will start to clarify in the second half of 2022.
S&P500:     April  -8.80%,   YTD  -13.31%       DOW:                April  -4.91%,    YTD  -9.25%

NASDAQ:   April  -13.26%, YTD  -21.16%       Russell 2000:    April  -10.01%, YTD  -17.03%
S&P500 Sector Performance YTD:
Communication Services -13.30%  
Consumer Discretionary -21.00%
Consumer Staples +0.70%                
Energy +35.40%
Financials -11.70%                             
Healthcare -7.60%
Industrials -10.10%                            
Technology -18.90%
Materials -6.30%                               
Real Estate -10.30%
Utilities -0.50%
Inflation has spread across the landscape with food and gasoline impacting consumers. Interest Rate expansion has affected housing and mortgages are up from 3% to 5.5% for a 30-year fixed. The stock market has dislocated. Declining stock and bond prices and the related anxiety is unnerving. Investors have enjoyed the comfort zone of consistent positive portfolio returns for a long time, with little interruption. Although the current pullback is painful and necessary, it should be temporary.
The unsettling investment scene will continue. Volatility and a push-pull trading market will persist. Earnings are the determinant of stock prices in conjunction with what market participants are willing to pay. The current earnings picture supports close to 10% earnings growth in 2022. This would be impressive considering supply issues, increasing costs, labor problems and inflation.
The Fed this Wednesday will shed further light on the intensity of their rate advances. The complex background and environment facing the Fed is clearly challenging. The media provides little coverage accenting the optimistic case, but it does exist. Economic indicators are high and rising. Corporate America is investing for the future and the U.S. consumer is still flush with cash and ready to spend post pandemic, which is waning. Corporate stock buybacks are also evidence of growth. Companies are well situated with strong earnings and balance sheets.
Bond markets continue to face pressure from inflation and tighter monetary policy. This year investment grade corporate bonds and treasuries registered the most difficult performance in decades. Fixed income still faces problems from increased government supply as central banks start to unwind balance sheets. As the Fed starts to reduce bond holdings, it will pull billions from the market. This should make stocks a more attractive investment class than bonds.
The Fed message will set the prospective tone and steps toward bringing inflation under control. We expect an inflation drop, 4%-5%, taking immediate market pressure off. The multiple on forward earnings has declined 17x, inducing a beginning of increased value while taking stress off of the future. The Fed is finally stepping up, combating inflation, which will ease the discomfort felt in stock and bond prices. We can ride out the short-term pullback to trade for future asset growth.
First Quarter 2022 Review - Looking Forward
Stocks delivered a remarkable rebound from early March but faltered at month-end. The positive retracement was done in the face of rampant inflation, stress of the Ukraine invasion, rising bond yields and inversion of the short and long treasury yields. These issues have fostered the recession discussion.
These pressures reversed the market optimism with a turnaround of -500 DOW points in a few hours on the next to last trading day of March, with all three averages declining -1.5% for the day. Important market leaders shifted with banks, semiconductors and consumer discretionary names softening in price. Even so, gains in the averages during the month held up.
S&P500:                         March +3.58%        YTD -4.95%
DOW:                              March +2.32%        YTD -4.57%
NASDAQ:                       March +3.41%        YTD -9.10%
Russell 2000:               March +1.08%        YTD -7.80%
How the individual sectors fared through the end of March:
Communication Services    -11.3%
Consumer Discretionary       -9.0%
Consumer Staples                  -0.4%
Energy                                   +38.8%
Financials                                 -2.1%
Healthcare                               -2.1%
Industrials                               -3.4%
Materials                                 -1.7%
Real Estate                              -5.0%
Technology                             -8.7%
Utilities                                   +5.5%
The stock market has ceased to be unified and is adjusting sector relations due to inflation. Portfolio allocation has been impacted, as stocks and sectors have been rotating with extreme moves. The rise of bond yields will provide modest competition for stocks in the near-term. Street expectations are in the $225 range for S&P500 earnings and plus 5%-6% for 2022 earnings.
The inverted yield curve, which flashed in March, can signal recession. The market can still move positively as a recession would be a future event, as far out as a year and a half. Meaning, it is most likely a 2023 event (if at all) as the economy is continuing to rebound and 2022 is still intact.
The 5-year bond yield moved above the 30-year followed by the 2-year yield moving higher than the 10-year. Mortgage rates quickly followed dampening home sales and home improvement vendors such as Home Depot and Lowe's. The pressure has mounted on the stock market. Low yields support equity prices with less avenues to place yield seeking funds. Market support is impacted by higher rates as are sector results.
The Federal Reserve has shifted course and the mindset is to get inflation under control by shrinking their balance sheet assets and raising rates. That translates to lower growth. We expect that the Fed will move rates between 2.5% and 3% by year-end. The Fed has a full plate of issues, ranging from corporate margin expectations, commodity prices, supply chain difficulties and sanction impacts.
Our portfolio strategy is to retain higher than normal cash, be selective with sector preferences and adhere to investment discipline. The all-clear signal is premature. We expect an extension of volatility. Unemployment at 3.6% is a source of optimism. The U.S. consumer is awash in cash, providing stimulus to a 75% consumer driven economy.
So far this year, we are comfortably ahead of the averages. We expect the problems to be worked out as the year matures, generating modestly higher stock prices by year-end.
February 2022 Review - Looking Forward
The stock market has been a challenge since the start of 2022. Wide price swings and volatility have marked the action. February alone registered over a -3% correction in both the S&P500 and DOW, as well as an almost -3.5% decline in the NASDAQ index. Inflation has clearly surfaced, and Russia's invasion of Ukraine have become leading negative factors.
Both Energy and Financials gave up a small part of their January gains in February. All other categories remained negative, like in January. YTD through February Energy is +26.5%, Financials -1.6%, and bringing up the rear are Real Estate -13.2% and Consumer Discretionary at -13.4%. Technology and Communication Services finished the month down -11.6% and -12.9% respectively.
S&P500:                    Jan -5.26%          Feb  -3.14%           YTD  -8.23%
DOW:                        Jan -3.32%           Feb -3.53%           YTD  -6.73%
NASDAQ:                 Jan -8.98%            Feb -3.43%          YTD -12.10%
Russell 2000:          Jan -9.66%            Feb +0.97%          YTD -8.78%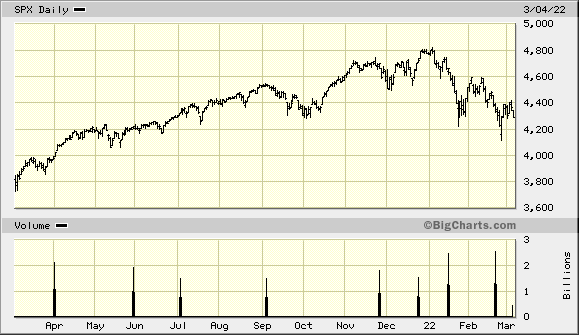 Treasury rates received a boost as investors turned to safety with the Russian incursion of Ukraine and related anxiety. The 2-Year U.S. Treasury moved up 26 basis points to a 1.79% yield. Outside the U.S., Canada's long bond moved ahead of the 10-Year U.S. Treasury and Germany's long rated bond moved into positive territory.
Inflation climbed for the fifth straight month, stepping up to 7.5%. Gold rose 5% in February and oil headed over $100 per barrel. New single-family homes sold slipped 4.5% from January's numbers, while sale availability for existing homes declined to another all-time low.
The Federal Reserve Chairman, Jerome Powell, appeared before the U.S. House Committee for Financial Services on Wednesday, March 2, followed by the Senate on Thursday, March 3rd. The question was clarity on the Fed's plans for interest rate hikes to temper inflation. Powell received a booming market response on Wednesday. The DOW gained +1.79%, S&P500 +1.86% and NASDAQ +1.62%. Just the reverse took place after Thursday's meeting as the DOW retreated -0.50%, S&P500 -0.28% and the NASDAQ worse the laggard at -1.55%. Powell indicated four to five quarter point increases and then judge the impact, exactly what Wall Street wanted.
Russia rejected Ukraine sovereignty and started the process of annexing the country. The outcome will probably conclude in a relatively short period. Either Russia will step up the fighting and dominate or decide to give in to global pressures. At a minimum, the conflict has had devastating effects on Ukrainian civilians as well as global and Russian economics. Ukraine is the "breadbasket" of the world.
The U.S. is the largest producer of oil and natural gas followed by Saudi Arabia and then Russia. Global demand for oil puts Russia in a position to impact oil prices. The food and energy impact will make the global inflation path more difficult but still manageable.
We have been cautious with high cash positions. We have introduced modest new positions starting with 2% equity weightings rather than larger percentages, which is normal in more favorable market conditions. This allows for participation with reduced risk. We can always add to the positions.
The first two quarters of 2022 have been expected to be volatile and choppy with heightened risks. This pattern will continue. No U.S. recession is close at hand, and the Fed will be dealing with appropriate rate increases. Progress is being made and we continue our positive thoughts as the year develops assuming no major Russia surprises.
The information contained in this investment research has been compiled by Garrett Nagle & Co., Inc. from sources believed to be reliable. No representation or warranty, express or implied, is made by Garrett Nagle & Co., Inc. as to its fairness, accuracy or completeness. Garrett Nagle & Co., Inc. has not independently verified the facts, assumptions, and estimates contained herein. This communication is for informational purposes only and nothing herein should be construed as a solicitation, recommendation or an offer to buy or sell any securities or product. Garrett Nagle & Co., Inc., their officers, directors, employees or clients may have a position in any securities mentioned above. All estimates, opinions and other information contained in this investment research constitute Garrett Nagle & Co., Inc.'s judgment as of the date of this investment research, are subject to change without notice and are provided in good faith but without legal responsibility or liability. Investments in financial instruments carry significant risks, including the possible loss of the principal amount invested. Past performance is not a guarantee or indication of future results.
…
Garrett Nagle & Co., Inc. does not provide tax, accounting or legal advice. This e-mail and any attachments are not intended or written to be used, and cannot be used or relied upon, by any taxpayer for the purpose of avoiding U.S. tax related penalties or promoting, marketing or recommending to another party any transaction or matter addressed herein. This transmission may contain information that is privileged, confidential, legally privileged, and/or exempt from disclosure under applicable law. If you are not the intended recipient, you are hereby notified that any disclosure, copying, distribution, or use of the information contained herein (including any reliance thereon) is strictly prohibited. Although this transmission and any attachments are believed to be free of any virus or other defect that might affect any computer system into which it is received and opened, it is the responsibility of the recipient to ensure that it is virus free and no responsibility is accepted by Garrett Nagle & Co., Inc, for any loss or damage arising in any way from its use. If you received this transmission in error, please immediately contact the sender and destroy the material in its entirety, whether in electronic or hard copy format.