July 2021 Review - Looking Ahead
Trading anxiety was high all month. Mid-month a bruising selloff took place, shaving off 2.87% of the S&P500 index and 2.95% from the DOW. The heavy tech-oriented NASDAQ lost 3.11% and the Russell 2000 lost 6.62%. Many gurus expressed the view that the action represented the start of a major reversal.
However, the next trading day put the brakes on, and the averages promptly traded up for the next few days recovering losses. The end of the month brought earnings from Amazon, Apple, Microsoft, Facebook, and Alphabet.
The market preceded release with optimism, pushing prices higher. After the earnings and forward guidance were assimilated, analysts adjusted numbers lower. The last day of the month concluded with much heralded Amazon losing 10.06% on very surprising results. Earlier in the week, Facebook retreated 4.54% and Apple decreased 2.69%. Only Alphabet (+3.17%) moved higher post-earnings, while Microsoft stayed firm during the busiest earnings release week.
The market action highlighted rotation of sectors again, rather than all-encompassing market moves. 85% of reported earnings for Q2 have been positive and have beaten estimates, on average, by 18%. The month ended soberly, with favorite names modifying to longer-term price adjustments.
S&P500:     July +2.22%, YTD +17.02%          DOW:   June +1.25%, YTD +14.14%
NASDAQ:  June +1.16%, YTD +13.85%         Russell 2000:   June -3.65%, YTD +12.73%

China, with 20% of the world's population, is looking to their future. The communist party has moved sharply, with corporate governance and regulations, in controlling Chinese technology companies and humbling executives in the process. The impact on top Chinese equities has been marked, and the short-term sacrifice of major technology companies' market value has been pronounced.
Their first move was to control technology. Then China followed that up by also regulating education. Criticism of offerings in the U.S. were loud. Listing in the U.S. is currently done without U.S. audit requirements fostering a three-year period to comply or face U.S. delisting. No evidence for China to reply has yet surfaced. Listing major Chinese companies in Beijing may be the next step. The hardened stance has disrupted markets and prompted investor caution.
The Federal Reserve is still standing pat, providing liquidity, and monitoring low rates. U.S. Economic prospects are moving ahead for 2022 with earnings per share projections as high as $240-$250p.s. on the S&P500. This would be a real cushion to earnings for Biden's impactful tax plan.
Daily trading still is cloudy. Last week Robinhood's IPO was extensively covered by the media. The outcome was pricing at the low-end of valuations and Robinhood still recorded a roughly 8% loss on it's first trading day. The two founders of the company are not even registered principals. The marketplace is focused on investment options dissimilar to historic values/norms. The saving grace is liquidity and Fed support.
The closing six months of 2021 will likely have soft spots, but we remain positive on year-end results.
2nd Quarter 2021 Review - Looking Ahead
The first half of 2021 closed on a high note with the banks relieved of Federal Reserve dividend and buyback restrictions. All 23 major banks passed the Fed's regulatory tests. After completing the stress tests, dividend increases from the banks, with the delayed exception of Citigroup, were announced. As well, substantial buybacks were either declared or restarted across the industry.
The combination set the stage for more promising returns from the financial sector along with the Fed's signaling modestly higher interest rates going forward. Wells Fargo, which is still on the mend, moderately raised the dividend certifying that their remake is beginning to take shape.
S&P500:            June  +2.22%,         YTD +14.41% DOW:                June  -0.08%,           YTD +12.73% NASDAQ:          June  +5.49%,          YTD  +12.54% Russell 2000:   June  +1.83%,          YTD +17.00
The major news mid-June centered around unnerving Fed comments. The talk focused on lowering bond purchases (tapering) and stepping up the timeframe for higher interest rates. The Fed finally calmed the picture by indicating no short-term plans were imminent. Discussions were simply framing the approach for future planning. The market adjusted and turned to sector rotation, edging indices higher and narrowing market gains.
Below the surface, fewer stocks reached new highs. In fact, only 15% of stocks hit a new high on June 24th with the S&P500 benchmark. In addition, the tape has not had a 5% correction for a lengthy period. The combination suggests caution as we move to the second half of the year.
The final outcome for President Biden's tax proposals for economic and social issues is still being bandied about in the House and Senate. Assuming the White House prevails, the proposed 28% corporate tax plus a 21% global minimum tax would shave 7% off of S&P500 earnings next year. Along with advancing regulations, the investing hurdles will be difficult. Clearly, the last half of the year will have concerns. The bullish view is that mounting earnings can offset the hurdles.
The FAANG stocks are under increasing scrutiny from regulators and Congress. These companies have been the drivers of the positive market performance. This will bear close attention for investors. Regulation, coupled with attendant negative sentiment, can disrupt the forward market momentum.
Our take is that a minor pullback in the averages will take place, sometime in the second half of the year, as we are overdue. Second quarter earnings will be exceptional and in short-term buoy results. Certainly, markets are not connected to fundamentals, and this generates investor anxiety.
Our take is that a minor pullback in the averages will take place, sometime in the second half of the year, as we are overdue. Second quarter earnings will be exceptional and in short-term buoy results. Certainly, markets are not connected to fundamentals, and this generates investor anxiety.
However, the Fed has declared their policy of sticking with current supporting measures. The market will still continue to move higher, but at a slower pace than the first half of the year. Our expectation is that investment results will pullback from the first half, likely delivering roughly 50% of the first 6 months performance.
Our firm makes the maximum effort for our clients to minimize tax outlays. Short-term gains are taxed at ordinary income rates. Every attempt is made to sell securities only when they have become long-term holdings. Gains are favored in non-taxable accounts as only withdrawals are taxed. We work with clients and their accountants to coordinate their year-end tax picture, as well as help with estate and gift planning.
May 2021 Recap - Looking Ahead
The S&P500 delivered in the last week of May the first gain in three weeks of trading. The end result was a gain of 0.55% for the month. The trading pattern continued to be choppy. Corporate earnings were exceptional, balancing the turn in the economy and significant apprehension of impending inflation. The market for the five months of 2021 continued the re-rating process of individual sectors and stocks.
S&P500:           May  +0.55%,         YTD +11.93%
DOW:               May  +1.92%,         YTD +12.82%
NASDAQ:        May  -1.53%,          YTD  +6.68%
Russell 2000:   May  +0.11%,          YTD +14.89
The Federal Reserve has taken the position that they can handle the inflation issue, but the market is not entirely in agreement. Clearly, inflation is accelerating as consumer spending is soaring. The Consumer Price Index spiked in April 4.2% from a year ago and well above estimates. Markets quickly adjusted for the abrupt shift. The Fed took the swing in stride and maintained a longer view. The evidence of higher inflation is all around us.

The consumer is feeling it as energy prices have ramped up 25% from a year ago. Costs of consumer staples are up. Costs of materials, such as lumber, have dramatically increased. Lumber is up 280% since the pandemic and supply is tight. Advancing real estate prices add to the evidence. However, all are supported by a robust consumer who has spent the past 15 months not spending.

Bonds will have to reflect increased inflation with higher rates. A 2%-2.5% uptick in the 10-Year Treasury is now looking likely. The timing is not clear. The market impact will be to favor short treasuries to diminish the effect on portfolio principal.
Strong economic growth in the economy for the last half of 2021 into 2022 will be robust. Low interest rates and moderate increases in inflation are providing the backdrop. Most global equity markets will deliver solid results on corporate earnings with the economic growth.

Results will still be choppy and uneven but with an upward trading bias. Fast growing companies priced on revenue enhancement with deferred earnings, sometimes as far out as 5 years, will continue to be under pressure.

The stock market has digested Biden's wide ranging "wealth" tax proposals well. The Republican arguments have diminished the size of programs and financial impact thus far.

Our approach is a barbell balance of value and growth equities. As always, this will be implemented cautiously.
April 2021 Review - Looking Ahead
Stocks closed down on Friday but the S&P500 gained over 5% in April. Below the averages, the market was wobbly. The majority of the top five names reported exceptional earnings. The group responded with positive gains only to give back most or all of the increases within a few trading days. The adjustment was puzzling. Gains were highly anticipated but the lack of follow through surprised.
S&P500:    April+5.24%, YTD +11.32%                             DOW:  April +2.72%, YTD +10.69%
NASDAQ:  April +5.40%, YTD +8.34%
Amazon $3,471.31 on 4/29/21 pre-earnings, $3,386.49 on 5/3/21 post-earnings.
Apple $133.58 on 4/28/21 pre-earnings, $132.54 on 5/3/21 post-earnings.
Microsoft $260.58 4/21/21 pre-earnings, $251.86 on 5/3/21 post-earnings.
Netflix $549.57 4/20/21 pre-earnings, $509.11 on 5/3/21 post-earnings.
Alphabet is now flat, and Facebook has bucked the downward trend holding on to post-earnings gains.
Clearly, Biden's strategy concluded that Obama's spending program after the financial crisis was too small. The President's administration is gearing up for virtually a decade of stimulus. The magnitude of spending will likely be debated and trimmed somewhat.
The pushback has started and markets, so far, are tolerating the ambitious programs accordingly. The question for stock market performance is whether higher taxes will reign in economic success. Bank of America strategists, in their recent outlook, projected S&P500 earnings of $205 in 2022, with $14 at risk from the tax hike.
Proposal variables are wide. A change in estate tax levels from the current $11.7M to $3.5M seems to be wavering in favor of eliminating the stepped-up cost basis at death. Social Security is lurking in the background for needed adjustment. A reasonable expectation is that more modest asset levels will come in to play.
The U.S. economy is about to rip higher according to Christopher Waller, the former research director of the St. Louis Federal Reserve. More money has flowed into equities in the past five months than in the last twelve years, supporting the view. The economy is clearly accelerating, and projections suggest the momentum will likely continue through 2023. The major risks are a Federal Reserve shift on interest rates, the final outcome of the complex and massive tax proposals and China moving on Taiwan. The rate shift has been endlessly communicated by the Fed and therefore unlikely to be changed. The impact of any of these events would be enormously disruptive. Market rotation will likely continue and create sharp pullbacks. The prevailing overview remains for stronger economic results and an extended global rally.
First Quarter 2021 - Looking Forward
The first quarter of 2021 ended with forward but mixed results in the averages. Value stocks finally came to the front. Financials and Energy stocks, prompted by higher interest rates and rising prices, moved higher. Gold sold off with the increase in bond yields and competition from rising interest in Bitcoin.
S&P500:                        March +4.24%              YTD +5.77%
DOW:                            March +6.62%              YTD +7.76%
NASDAQ:                     March +0.41%              YTD +2.78%
Russell 2000:              March +0.89%              YTD +12.44%
The Federal Reserve has proffered that inflation is transitory and can be contained. The outcome is yet to be determined. The Fed has shifted policy from a 2% inflation target to allowing the level to run "hot" before hiking the Fed Funds rate in response. The 10-Year U.S. Treasury rate moved up to a 1.75% yield. Markets handled the modest increase well.
Wide price swings dominated Q1. FAANG stocks have generally held their ground with solid cash flow and strong earnings moderating a downturn. The vulnerable area has been "growth" names. They have been optimistically priced on fast revenue growth but earnings on the come. The results have been punishing and quick. The list is long, and most of the companies are not in the averages.
Viacom              High on 03/15/21    $101.97,     03/30/21 price   $46.61
Zoom                 High on 10/19/20   $588.84,     03/30/21 price   $313.19
Fastly                High on 10/13/20    $136.50,     03/30/21 price   $65.26
Teledoc             High on 02/16/21    $308.00,     03/30/21 price   $174.74
Square              High on 02/16/21    $283.18,     03/30/21 price   $212.83
Snowflake        High on 12/8/20      $429.00,     03/30/21 price   $222.07
Proposed spending from Washington is immense. The devoted targets are designed to address economic and unemployment issues, climate change, individual state problems and a host of other causes. What is clear is that higher taxes will follow, and individuals will be impacted.

For starters, the indicated corporate tax rate will be moved to 28% from 21%. The timing is awkward since many countries are doing the opposite. As well, the global minimum tax rate will be raised to 21% from 13%. The increase in corporate taxes will clearly impact price/earnings ratios for equities. The combination of corporate and personal income tax increases could hit the S&P500 earnings per share close to 10%.

Included in the plan is taxing the wealthy.  Anyone earning over $400,000.00 in annual income (filing jointly over as well) will be squeezed. Capital gains looking to be taxed at ordinary income levels, moving from 23.8% to 39.6%.

Senators Warren and Sanders are adding proposals. Warrens' tax on the ultra-wealthy would generate roughly $30 billion per year. Sanders' Estate tax plan would exempt the first $3.5 million of an individual's estate from the tax and $7 million for joint filers. Estates valued between $3.5 million – $10 million would be taxed at 45%, $10 million – $50 million at 50%, and between $50 million – $1 billion at 55%. The rate for estates valued at over $1 billion would be taxed at 65%. Speaker Pelosi has fostered a proposal to repeal the $10,000.00 cap on state and local taxes. These proposals will be subjected to more analysis.

Biden is basically in line with Sanders' proposal. Massachusetts has a $1 million state exemption. A positive approach would be for the U.S. Treasury to issue a 50-year low interest bond. Biden also has his eye on removing the stepped-up cost basis which allows children to inherit the family house/securities on a current appraisal and date of death pricing, respectively. The outcome of these negotiations will likely be worked out in the fall.
Looking Back & The Balance of 2021
The broad market has experienced minor swings in Q1, short of a correction. Shifts in interest rate expectations have changed sectors abruptly. The economy will adapt to massive liquidity and then adjust to measuring the market impact of proposed tax changes.

A strong economy with tremendous liquidity will help drive the development for positive market returns as the year unfolds. The implications of massive tax consequences will have to be digested. We anticipate a higher but volatile market workout.

The markets have accepted bursting earnings as liquidity filters through the economy. The tax issue will be addressed when the picture is clearer. The present market is positive and optimistic still. We judge the bulk of 2021 performance will be reflected in the first half of the year and expect positive annual returns.
The equity market performed well, setting records until the last three trading days of the month. Up until that point, the markets were very good at dismissing negative news and moving forward. The month closed with markets trading down almost 3% on those last three trading days.
The opening month of 2021 finished:
S&P 500:   January -1.11%                    DOW:   January -2.04%
NASDAQ:   January +1.42%
The marketplace had been setting up for correction. Wild price swings in about 13 stocks, shorted by pooled individual investors, tackled hedge fund dominance.

Brokerage firms catering to that market segment and trading in these names limited buying, fearing resultant capital problems. Capital was raised allaying concerns. Regulators bickered about the problem but were slow to respond. Differing views took sides on the democratization of Wall Street. A mini correction followed.

The SEC and Congress have now been drawn to the fray. The issue of short selling up to 140% of a company's outstanding shares, in the case of GameStop, demands attention.

The extension of the market upset spread quickly to a handful of major companies that had reported spectacular earnings.
AAPL ($145.09 down to $131.96)       MSFT ($242.64 down to $231.96)
FB ($282.05 down to $258.33)
Clearly, these stocks had moved up in anticipation of good earnings. However, companies that have reported did deliver strong numbers above expectations. Yet, they were not immune from contagion. Our view is this action will be well worked over by regulators and Congress with minor regulatory adjustments.
The market appears to have stabilized and fear of correction is likely postponed. The virus delivery system is taking shape. President Biden's 100 million vaccinations in his first 100 days seems to be a reasonable expectation.

Reopening the economy is closer at hand. The Federal Reserve is supplying liquidity and both Biden and Congress are making progress on the next financial step. However, it looks to be less than the original proposal.

We continue to expect higher earnings and stock prices through year-end.
2020 Highlights, 2021 - A Broadening Expansion
The market ended December with the averages at, or very close to, their all-time highs.
S&P 500:                  Dec +3.71%         Q4 +11.69%        YTD +16.26% (+0.00% from 12/31/2020 high)
DOW:                        Dec +3.27%         Q4 +10.17%        YTD +7.25% (+0.00% from 12/31/2020 high)
NASDAQ:                 Dec +5.65%         Q4 +15.41%        YTD +43.64% (-0.09% from 12/28/2020 high)
Russell 2000:          Dec +8.52%         Q4 +30.99%        YTD +18.36% (-1.61% from 12/23/2020 high)
The year was extraordinary with widespread investment impact. After an 11-year economic upturn, we had a brief +10% return to start 2020 but Q1 closed with a -20% in the averages. A two-month recession followed. 2020 was just getting started. A quick reversal followed realizing +30% growth in Q3.

The shock of Covid19 was the culprit. Earnings for the S&P500 abruptly moved down from $167p.s. to $110p.s. In Q4, earnings retraced to an expected annual $165p.s. resulting in a breathtaking 9-month swing.

The Federal Reserve stepped up with unprecedented support, increasing the money supply 25%. It is clear that without the Fed and Treasury Secretary Mnuchin the turnaround may not have been possible or, at a minimum, may have been a much longer process. Bonds remain out of favor, continuing to boost overall equity exposure. The Fed is likely to stand pat with support until full employment is reflected.
2021 – A Broadening Expansion
The economy in 2021 looks promising. The virus is being reigned in and vaccines are being distributed and dispensed. The U.S. dollar has consistently weakened, supporting the U.S. participation in the global upturn. A global reopening is now being reflected. China is leading global improvement and is roughly 3-6 months ahead of the U.S. recovery. China bond yields are strengthening, confirming growth, while showing little signs of inflation.

We expect 2021 to build on last year. Equity valuations are priced ahead of results. We judge a pullback is inevitable, likely in the first 3-6 months, and in the 10% area. That will present a portfolio rebalancing opportunity. Again, the global picture is starting to come together, and the upturn is taking shape.

The Georgia runoff election, climaxing on Tuesday, is the next hurdle. Control of Congress is at play. A Democratic win will consequently shock the market short-term followed by a rebalance in equities. An increase in both the corporate tax and capital gains rate are likely.

We anticipate 2021 gains for equities in the 10%-15% range but, obviously, not in a straight line. The S&P500 finished the year with 40% of the companies in the average negative for 2020. Thus, not all of the names are marked up. Supporting prospects for positive 2021 results are expectations for GDP in U.S. growing at a faster rate than in years. S&P500 earnings will follow. EPS are anticipated to advance close to 25% in 2021.
Market Picture Post 2020 Election
Consistent positive vaccine news each Monday in November set the stage for solid gains in the averages. Enthusiasm for Pfizer and Moderna's vaccine marketplace readiness shortened the distribution timing, raising stock prices. New all-time highs followed in the averages.
The economy rebounded an exceptional 33% in Q3 GDP with additional gains expected in Q4 supported by the virus news. November rebound levels are all the more remarkable considering the averages were negative 30% in mid-March this year.
S&P 500:   November +10.75%, YTD +12.10%       DOW:  November +11.84%, YTD +3.86%
NASDAQ:  November +11.80%, YTD +35.96%       Russell 2000:   November +18.29%, YTD +9.07%
The investor mood has lightened in the election aftermath. Trump has lost in the legal area to support his case and has moved slowly to accepting a formal transition to president-elect Biden. The January Georgia runoff will likely support a divided government. Betting odds favor Republicans 3 to 1 to prevail. That likelihood dampens Biden's far reaching tax proposals.

Voters favored the middle in the election. The "Blue Wave" with a sharp tilt to strong liberalism did not prevail. Biden has centered and conducted himself well particularly given the difficult results to contend with in his party.

Biden has developed mostly a positive response to appointments for his cabinet. Controversial liberal senators Warren and Sanders have been minimized and the far-left Democrats as well…thus far.
The combination is attractive to the stock market looking out to 2021. The proposed appointment of Janet Yellen for Treasury Secretary is appealing considering the lack of success Trump had with appointees. The climate suggests optimism.
The chance for Biden to adjust relationships with the Chinese is moving to the front. Trump should be credited with calling attention to China's behavior. The Chinese government is now on the defensive fearful of losing more U.S. corporate relations. Only a handful of U.S. companies (Starbucks, Nike, Apple, etc.) have availed themselves of a Chinese welcome to their markets.

Biden has used the right strategy in not responding to dismissing tariffs. Reinvigorating weakened "ally" relationships due to Trump overkill will play into the equation. A positive picture can be built on the one accord now in place.
December and 2021 Outlook
As the year closes, the question surfaces as to whether November's remarkable gains have borrowed from 2021. December is historically noted for positive performance and closing well. A shining light would be a compromise between Pelosi and Mnuchin to squeeze in the long overdue fiscal support for the economy.
Clearly, November highs in the averages signify an improving economy in 2021. The U.S. is following global economic turns. China is leading the global economic shift after success in handling the pandemic and stabilizing the economy without heavy debt buildup.
Interest rates are key to the turn and the Federal Reserve support is evident. The Fed has flooded the system with cash and proffered low rates for at least two to three years. The cash build is reflected in money market accounts which have climbed to $4.8 Trillion from an average of $2.5 Trillion. We expect positive equity returns in 2021 assuming the January 5th Georgia runoff election results confirm a divided government.
Q3 2020 Review - Looking Ahead
September recorded four straight weeks of negative returns, but the third quarter still managed to cover the loss and post positive numbers. In spite of the volatility and checkered news, stocks continue to have it all over bonds.
S&P 500:                Sept -3.92%                    Q3 +8.47%                        YTD +4.09%
DOW:                     Sept -2.28%                    Q3 +7.63%                        YTD -2.65%
NASDAQ:              Sept -5.16%                    Q3 +11.02%                     YTD +24.46%
Russell 2000:       Sept -3.47%                    Q3 +4.60%                        YTD -9.64%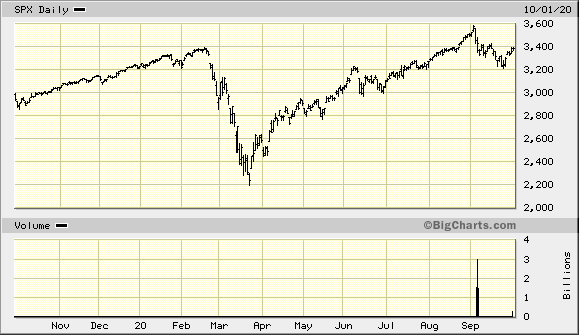 The last quarter of the year is loaded with uncertainty. The major item is additional stimulus from Washington. The political wrangling seems to be closer to a much-needed decision and a positive result will be well received by the stock market. A negative result will provide a disappointing reaction.

The election implications for now revolve around Biden's tax proposals. Should Biden win, and the proposals get put in place, close to 10% of 2021 S&P500 earnings will be shaved. The longer-range inherent growth from massive spending would restore growth longer term.

The next issue is China and U.S. relations post-election. The tone is less clear, and we should anticipate China seizing opportunities to strengthen their global position if available.

Lastly, the banks have been out of favor (XLF, the SPDR financial ETF is -20.14% YTD.) Loan loss reserves are in question. Earnings guidance from the banking sector would strengthen the economic picture going forward.

In light of the variables, we anticipate market results in Q4 will likely be choppy but limited on the downside. The Federal Reserve programs are still in place supporting growth.
August 2020 Review, Looking Ahead
The S&P500 ended the month of August up 7%, continuing the positive momentum since the March lows. Market concentration remained, favoring a short list of thriving technology names.
Apple, for example, delivered 28% of the S&P500's performance for the month. As another measure, the average stock in the S&P500 is down 4% YTD.
The market narrative is now looking forward and asking, "Will there be a September correction?"
S&P 500:             Aug  +7.01%                YTD  +8.34%             -0.22%   from 8/28/20 high
DOW:                   Aug  +7.57%                YTD  -0.38%              -3.79%   from 2/12/20 high
NASDAQ:            Aug  +9.59%                YTD  +31.24%             0.00%   from 8/31/20 high
Russell 2000:      Aug  +5.50%                YTD  -6.39%              -8.41%   from 1/16/20 high
The Federal Reserve is providing liquidity with a massive increase in money supply. This backdrop forces investors, fighting for yield, to choose the stock market over the bond market as the only game in town for potential results.

This strategy provides a put under the market. The latest Fed message combines low interest rates with allowing inflation to run hotter. The target is 2% inflation for a longer period. Those policies are bullish for equities and supportive for markets.

The current narrative is that anti-viral success happens before year-end. Once the pandemic is put to rest the economy can get on with reopening and working back to normalcy. A loose end is the payment protection. The political dialogue has to come together to minimize further economic instability
The Presidential election race appears to be tightening. The real question is could there be a possible democratic sweep of the Presidency, Senate, and House. Biden, with that distribution, would likely have difficulty holding back the new liberal crew of the party.

Biden's message is clear; rolling back tax cuts and Jobs Act, raising income and social security taxes, long-term capital gains and qualified dividends subjected to ordinary income taxes, and the stepped-up basis at death eliminated. All moves that would impact wealthy seniors.

A split House and Senate outcome, regardless of who wins the Presidency, would work best for market direction. Time will tell.
The global economy is showing signs of coming around. The third quarter in the U.S. is responding accordingly but with elevated risks. Sentiment is positive and moving stock prices higher.

The election direction will soon add increased volatility. So far, the stock market has set aside election prospects. Our sense is that optimism is prevailing thanks to the Fed conduct. The election will provide sporadic swings in prices.

A market shift is inevitable, however the timing is unknown. We are positioned accordingly by taking measured gains. Our client assets are diversified and not over exposed, coupled with a cash component.
Exceptional results from Apple, Amazon and Facebook last Thursday after the close confirmed the market dominance of Technology. Amazing performance after the GDP (Gross Domestic Product) plunged -32.9% in Q2 and reversed from a bull to bear market in four short weeks. The result has been four straight positive months. Behind Technology, the market action has been mixed with apprehension for Covid19 virus numbers and fear of Washington D.C. faltering on the next financial support phase for the economy.
S&P 500:                                            July +5.51%                         YTD +1.25%                        -3.40% (From 2/19/20 High)
S&P500 Sector Breakdown/Results YTD
Info Technology 27.5%                  +14.81% YTD                     Health Care 14.6%                  -0.89% YTD
Cons Discretionary 11.2%              +2.55% YTD                      Comm Services 10.9%          +1.22% YTD
Financials 9.9%                                 -23.67% YTD                    Industrials 7.9%                     -14.74% YTD
Cons Staples 7%                                 -2.93% YTD                      Utilities 3.1%                           -11.21% YTD
Real Estate 2.8%                               -8.66% YTD                       Materials 2.6%                          -7.23% YTD
Energy 2.5%                                        -34.99% YTD
The median performance for stocks in the S&P500 is down roughly -20% YTD.
DOW:                        July +2.38%                   YTD -7.39%                         -10.57% (From 2/12/20 High)
NASDAQ:                 July +6.82%                  YTD +19.76%                      -0.20% (From 7/20/20 High)
Russell 2000:          July +2.71%                   YTD -11.27%                       -13.18% (From 1/16/20 High)
The Federal Reserve is on board to increase the balance sheet and address the mountains of debt later on with the background of modest inflation and incredibly low interest rates. Current conditions make the debt scene manageable, but it will have to be addressed in the future.

Biden's proposal to raise $2 Trillion in corporate taxes, increasing taxes on average by 9%. The window is wide open for tax increases versus tax cuts. This will likely accelerate. Credit fundamentals are not good, and the U.S. is running close to a 20% annual deficit in 2020. Market success has benefited from a 34% increase in the money supply since March 1st.

The election picture on both sides of the aisle favor continued deficit spending. The current environment makes it easy, responding to demanding voters for financial support. The issue is when is the piper to be paid. The proposed buildup in debt with advancing corporate taxes will cut into corporate profits which is the linchpin of future market prospects.
The stock market is stretched, and likely range bound through summers' end. Fiscal stimulus is uncertain, China – U.S. relations are in question and the election is coming up fast. All are major variables.

The market action has been optimistic, advancing price earnings multiples. Delivering therapies and early vaccine delivery potential have added to the positive tone.

Our sense is that optimism will continue to prevail and the S&P500 will work modestly higher through year-end. The key being the timing of therapies and a vaccine becoming promptly available.
June was an action-packed month finishing with the DOW average having its largest rally since Q1 1987. Not to be outdone, both the S&P500 and NASDAQ had their best quarters since Q4 1998 and Q2 1999 respectfully. The market has snapped back from the March 23rd lows in spectacular fashion. Volatility forced a third of investors over 65 years of age to liquidate their equity portfolios, missing out on the phenomenal quarterly rebound.
S&P 500:                 June +1.84%,       Q2 +19.95%,       YTD -4.04% (-8.44% from 2/19/20 high)
 
DOW:                        June +1.69%,       Q2 +17.77%,       YTD -9.55% (-12.65% from 2/12/20 high)
 
NASDAQ:                June +5.99%,       Q2 +30.63%,       YTD +12.11% (-0.72% from 06/23/20 high)
 
Russell 2000:      June +3.39%,       Q2 +25.00%,       YTD -13.61% (-15.47% from 1/16/20 high)
The U.S. national debt stands at $26.3 trillion and heading towards a mountainous $30 trillion. Valuations and stock multiples, in time, will be impacted by attempts to control the deficit. Short-term, the virus trend is important, and the election is getting closer at hand.
Higher taxes are inevitable. Biden, faring better in the polls, has announced steps to attempt to close the gap and the proposals are widespread. The thrust is towards seniors and higher end taxpayers.
 
Tax capital gains and dividends as regular income on taxpayers lucky enough to report $1 million of gains
Raise the maximum tax rate from 37% to 39.6%
Increase the capital gains tax to 43.4%
Untaxed gains at death subject to 40% estate tax
Corporate tax rate moves to 28% from the Trump 21% rate
 
The net effect would decrease corporate earnings, earnings multiples, and dividends. Admittedly, the stimulus flow from the government has not yet fully worked into the economy. It will interact in the short-term but longer-range higher taxes will cast a shadow on corporate earnings and consumer spending.
The Federal Reserve has reigned in the banks with share buy backs suspended. Future dividends are now in question and capital plans will be resubmitted in Q4. The Fed has boxed in restraints on questionable loan loss impact from the economy going forward. The Fed has wisely taken the potential of an unlikely dilemma off the table.
We judge the stock market will continue to be selective and volatile. The Biotechnology sector is coming out of a long sideways build and gaining traction along with Pharmaceuticals. Select Technology names continue to do well and support NASDAQ prominence in the averages.
 
FAANG stocks are still attracting new capital with their exceptional balance sheets and high growth prospects. As cash on the sidelines wades in, investors purchase ETFs, automatically providing a purchase flow into these heavily weighted FAANG names.
 
The stock market shifts with daily news. Apprehension is high. What is clear is that a modest correction will attract a positive response.
April registered a positive month and May ended with two straight weeks of gains. The shortened holiday week finished with a shift from growth stocks, passing performance to Cyclicals, Financials, Transportation, and Industrials. Healthcare, Communications and Consumer Discretionary rose but were less impactful.

The last day of trading anchored on President Trump's China grievances. Surprisingly, Trump tempered his message. No pronounced efforts to increase tariffs or unwind the Phase 1 agreement. The market viewed his comments positively and ended the day with upbeat trading.
5 Months of Volatile Action
S&P500
2/19/2020 (HIGH) +4.80%, 3/23/2020 (LOW) -30.74%, 5/29/2020 -5.77%

DOW
2/12/2020 (HIGH) +3.54%, 3/23/2020 (LOW) -34.85%, 5/29/2020 -11.05%

NASDAQ
2/19/2020 (HIGH) +9.41%, 3/23/2020 (LOW) -23.53%, 5/29/2020 +5.76%

Russell 2000
1/16/2020 (HIGH) +2.20%, 3/18/2020 (LOW) -40.59%, 5/29/2020 -16.44%
After swift and heightened activity, the stock market is coming close to making up virtually all the lost ground. Stocks are down about -7% with the median issue down -14.5%. The S&P500 has moved slightly above the important 3,000 level.
The GDP (Gross Domestic Product) in Q1 was down -35% and will likely record -40% in Q2. Stimulus support has been worldwide with rate cuts. In seven weeks, the Fed has produced $3 Trillion in financial support to the economy, supplemented by fiscal aid.

Warren Buffett, Ray Dalio, David Tepper and Stanley Druckenmiller, all with great investment histories, voiced skepticism on the market recovery and delayed prospects for an economic rebound. The market, so far, has ignored the expressed anxiety and continued to move higher throughout the month of May.

Our firm carries roughly 22% in cash, plus equity preferred issues and fixed income for client portfolios…a relatively cautious mix. Our conservative approach has sheltered risk while keeping assets in line with the market recovery and results year to date.
Our view has been that the intensity to develop a vaccine and therapy will likely result in success by 2020 year-end. That is what the market has been relying on. Volatility will continue but the positive sentiment should be maintained.

The market has performed exceptionally well in the last two months. June is generally a positive month, but much still must work right. We plan to continue our cautious investment strategy and anticipate positive results by year-end.
The sharp March decline in the market was followed by an optimistic reversal in April and reflected two different market views. As April closed, it was clear the V-shaped recovery was far too enthusiastic. Sentiment ran ahead of valuations. Fixed income recovered back to almost the March 23rd levels, thanks to the Fed's intervention.
S&P500:                 April +12.68%         YTD -9.85%              From Feb 19th High -13.99%
DOW:                     April +11.08%         YTD -14.69%            From Feb 12th High -17.62%
NASDAQ:              April +15.45%         YTD -0.93%              From Feb 19th High -9.45%
Russell 2000:       April +13.66%         YTD -21.45%           From Jan 16th High -23.14%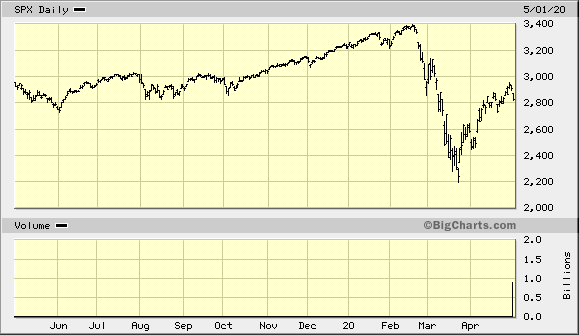 The five highest cash balance companies reported earnings in the last week of April. Apple, Facebook, Microsoft, Alphabet and Amazon, account for 20% of the S&P500 average. This is further represented in the NASDAQ's almost flat year-to-date performance as these companies ARE the top five in this index. Additionally, the composite is almost 50% Technology, a sector that has outperformed due to, again, a small handful of high-performance names. Their earnings were met with mixed investor reactions.
The search for a COVID19 vaccine took an important step forward with Gilead's drug Remdesivir showing measurable signs of shortening hospital stays and opening the door to an eventual solution for a vaccine.

States are developing detailed plans to open the economy. The pace will be slow and measured with ongoing adjustments as things unfold. The economic key is producing a vaccine to really lift the curtain.

Corporate buybacks and dividends will be impacted. Major banks, noted currently for solid balance sheets, took charges in Q1 and will do so again in Q2 to insure against new loan positions. We judge major banks will be clear of additional charges in Q3 & Q4, putting them back in a more respected market role.

Taxes will be increased soon for both state and Federal. The spending spigot will start to get attention and will need tax coverage. The left political shift in the country will move legislation in that direction.
The market has clearly gotten ahead of itself. Currently, the S&P500 is guessing at 2020 earnings projections. The March low was defining. GDP 2020 projections are -35% in Q2, +20% in Q3 and followed by +15% in Q4. Short-term will continue to be choppy. Liquidity will aid positive momentum as the year unfolds. The Fed is incredibly supportive and coupled with the U.S. Treasury will help control market direction.

Our view is a trading range. 2,650-3,000 for the S&P500 and will be in place for a time. As the economy reopens, markets will meander. The S&P500 currently at 2,912 (4/30/2020) will be protected on the downside at the 2,650 level, representing almost a 10% decline from recent highs.

Opportunities will be reshuffled. We are maintaining high cash holdings. Safeguarding assets is the top priority near-term.
The coronavirus foisted an unprecedented situation on the U.S. and global economies. The first quarter of 2020 is the worst quarter in market history. The Cruise lines, Hotel, Restaurant, Airlines and Energy industries as well as small-cap stocks were the most impacted. Financials are a close second.
S&P 500:                    QTD  -20.00%   From High -23.67% (2/19/20)
 
DOW:                          QTD  -23.20%   From High -25.83% (2/12/20)
 
NASDAQ:                   QTD  -14.18%   From High -21.57% (2/19/20)
 
Russell 2000:            QTD  -30.89%   From High -32.38% (1/16/20)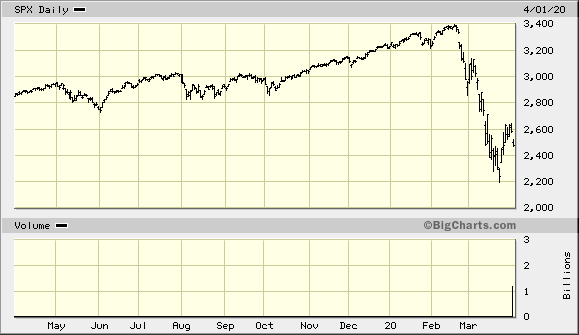 Recession is now inevitable. A decline of up to 30% in GDP for Q2 is most likely. We subscribe to a sharp quick drop with a reversal in Q3 with the rebound following into Q4.

Energy prices have fallen below $20 per barrel, promoted by the Saudi Arabia and Russia price conflict adding to the virus unrest. Supply broadly outstrips demand. Stability in oil prices will lighten economic pressure.
The country fraught with political wrangling has stepped up to the plate in a quick and unified fashion. Fed Chairman Powell, under critical pressure recently, moved remarkably fast to lower rates near zero percent, and added programs to shore up capital markets creating liquidity in high-yield and municipal fixed income trading. A turn in the bond market has started to take shape.

Secretary of the Treasury Mnuchin showing his business acumen, advanced through tireless negotiation the government's massive relief program. Governor Cuomo of New York came to the front in bipartisan fashion to become a leading Democratic figure in attacking the crisis. The government response has been extraordinary.
The best opportunity for the economy stabilizing centers on getting the coronavirus under control through medication. This week, the first real positive prospect for a viral solution came forward. Abbott Labs announced a 5-minute test response which will identify exempt patients. Johnson & Johnson registered progress on a vaccine to prevent COVID-19, which would be available in early 2021. Science and technology are rapidly moving forward.

The bond market is starting to demonstrate liquidity. The stock market responded with a brief rally of 16%, shaving the 33% loss. This raised the optimistic question of "Is the bottom in?" Our sense is we're in a volatile trading range. Grim statistics from COVID-19 numbers in the next 2-3 weeks will determine the answer.

The stock market anticipates future results in the economy. We are optimistic, after weathering tough numbers short-term, about turning positive going forward.
A note from Garrett Nagle & Co.
We want to assure clients that we have been attentive to shifting news flow and adjusting portfolios in your best interests. Our effort has been to increase cash across client accounts.

The picture has been demanding. Volatility began with the global virus, stressed capital markets and lastly the Saudi Arabia and Russia war on energy prices designed to thwart U.S. dominance in the area.

The Federal Reserve has stepped up, adjusting bond market distress and credit quality. The U.S. government, in bipartisan fashion, has quickly moved forward with financial bridges to help the labor market and keep the economy functioning. However, the high energy supply and low oil demand remains problematic.

Throughout the rapidly changing picture we have added to cash reserves and lowered market exposure even further. The tumultuous daily news has led us, in a short time frame, to reducing equity exposure in portfolios. Our plan is to keep the highest level of assets intact and wait for the turn.

We are positioned for the all clear signal. The key will be a prompt medical solution. Prospects are improving daily.

Please stay safe and well!
February 2019 Review - Surprise Action
The S&P500 faltered in the last three days of February but recorded the best two month start for the year in close to thirty years.
December 2018 registered a major downdraft for the S&P500 -9.18% and the DOW -8.66%, posting dramatic lows on Christmas Eve. The subsequent reversal rally of January and February caught investors off guard. Conventional market wisdom suggested that those who missed the early signs of the upswing would have a second chance at the retest of the December lows. A retest would confirm an established bottom.
Instead, the market moved up in a straight line from late December through the end of February. The Federal Reserve's easier stance toward 2019 rates solidified market response. The "wait and see" development coupled with the prospect of a favorable outcome in trade negotiations with China eliminated a retest and turned consumer confidence on the optimistic side. The retest never developed.
The global picture still poses potential problems. Europe, Japan and China are economically weak. U.S. corporate earnings are showing significant earnings decline. Q1 is apt to add up to less than 2% GDP growth…coupled with continued strong job creation, it will likely lead to 0% productivity growth. Low interest rates and the U.S. 10-Year Treasury at 2.73% (Feb-28) support the alternative to lower rates.
U.S. corporate earnings declined in Q1 while the S&P500 has marched forward. The S&P500 and DOW both stalled in the last three days of February and produced a positive reversal on Friday, March 1st.
Market action is relying on a resumption of growth later in 2019. Constructive news from the China negotiation could add another 5% to the averages. A pullback in the averages would likely follow.
We are closer to a modest pullback than a major upward swing. There is a lot of cash (best performing asset class in 2018) on the sidelines yet to participate. Memories of the December debacle returning keeps cash on the sidelines.
The S&P500 level of 2,800 has been addressed multiple times since early 2018 with no sustained success. Our sense is we are vulnerable to a modest pullback followed by improving results later in the year.
We expect a positive year in 2019.
First Quarter 2019 Overview
The S&P500 faltered in the last three days of February but recorded the best two month start for the year in close to thirty years.
February 19th the market recorded the top. Then the Coronavirus news abruptly changed the markets' narrative on the global economic picture. In the past week, the DOW average lost close to 4,000 points.

The downdraft was shocking and the fastest correction in market history. Last Friday, around noon, in 90 seconds the DOW average moved from a positive level to negative -1.50%.

The culprit has been the Coronavirus that started in China and has now spread to other parts of the world, including the U.S. The virus implications are economic and quickly shelved the picture of the U.S. economy turning up in early 2020 to a delayed recovery and recession avoidance.

Now if containment is ineffective, the U.S. will simply have to adjust. The implication for global growth is unsettled and subject to changes in virus headcounts.
S&P500:          Feb -8.41%,  YTD -8.56%             DOW:                     Feb -10.07%, YTD -10.96%
NASDAQ:        Feb -6.38%,  YTD -4.52%             Russell 2000:       Feb -8.53%,  YTD -11.51%
In early February, we were busy rebalancing client positions. Portfolio gains required adjustment from original allocations. Consequently, we shaved some securities and assigned proceeds to fixed income where appropriate.

We now have, firm-wide, 13% in Money Markets (Cash), 18% Bonds, 5% Preferreds, 64% in Equities. The percentages vary according to individual client and account ground rules. This distribution protected clients in the February pullback.
The Fed is in the forefront of developing global stimulus and today has cut the Fed Funds rate by 50 basis points. The U.S. dollar, which has weakened, will soften more benefiting U.S. corporations' overseas activities.

Several Wall Street firms have taken down estimates for the S&P500 earnings for 2020. New projections reflect a pullback from $175.00p.s. to $160.00p.s. with some predictions holding the 3,300-3,400 level for year-end results. The unclear supply chain support from China for U.S. prescriptions/products will impact forward results. The U.S. election is an additional variable for the 2020 investment scene outcome.

Pulling it altogether, we conclude that the virus will hopefully start to diminish by mid-year and, come fall, economic recovery will begin to emerge. This is a best-case scenario. In the interim, the market is not yet in the clear.
Our view is to be patient, maintain caution and wait for clarity. We are well positioned to do so. The market near-term will continue to be volatile with price swings. The market is not out of the woods.
The start of January 2020 fostered a shift in sentiment toward an improving economic scene in Europe, the U.S. and China, which markets reflected. The picture reversed as the month matured. The Coronavirus challenged economic stability, escalating with its spread through month-end.

Global economic numbers quickly came into question, pumping up Wall Street anxiety. Furthermore, Bernie Sanders' move in the Iowa polls advanced the possibility of the socialist platform succeeding. This combination shaved away all the early January advance producing a fragile market.
S&P500           January  -0.16%                           DOW               January   -0.99%
NASDAQ         January  +1.99%                          Russell 2000    January  -3.26%
The last week of January clustered reporting from four major companies followed by one more on Monday, February 3rd. The top five companies constitute 18% of the S&P500 average. Apple, Facebook, Microsoft, Amazon and Alphabet. Coming into the last week 33.3% of the S&P500 and NASDAQ were in correction, down 10% or greater, while also navigating the latest update on the Coronavirus.
Apple (AAPL), Facebook (FB), Microsoft (MSFT) and Amazon (AMZN) have all reported quarterly earnings.
Apple traded +2.09%, Facebook -6.13%, Microsoft +2.82% and Amazon +8.72% after posting. Apple has now given up the gains and is below it's pre-earnings pricing. Facebook continues to trade lower and Microsoft is slowly giving up the post-earnings gain…pretty good results.
Fear of the Coronavirus spreading prompted in January a significant increase in negative interest rates. Rates continue to remain low which is positive for the $23 Trillion of U.S. government debt. Yields in Japan and Europe retreated below zero while the 10-Year U.S. Treasury slipped to a 1.5% yield range.

Global economies are now addicted to low interest rates and will likely continue or face dampening economic growth. The impact of low rates is material on senior savings for retirement, pension funds and insurers with unattainable interest projections.

Central banks have become comfortable with low interest, but the massive growth of debt looms off in the future. Ironically, low debt can't foster economic growth above 2% and caps inflation.
Economic prospects in the U.S. are still promising. Assuming the Coronavirus is controlled, 4th quarter 2019 earnings are encouraging entering 2020. Liquidity provided by the Federal Reserve is major support. The next important impact will be a close election. The first week of February will focus on China's update on virus numbers combined with Sanders results in Iowa.

January Purchasing Managers Index (PMI), released early Feb 3rd, advanced 3.1% to 50.9%. This exceeded expectations. Our sense is the U.S. market is best described as in a mini correction with no sign of a real recession.

Our strategy is to pause and wait for markets to settle. We are well positioned and watching our holdings closely.
The start of January 2020 fostered a shift in sentiment toward an improving economic scene in Europe, the U.S. and China, which markets reflected. The picture reversed as the month matured. The Coronavirus challenged economic stability, escalating with its spread through month-end.

Global economic numbers quickly came into question, pumping up Wall Street anxiety. Furthermore, Bernie Sanders' move in the Iowa polls advanced the possibility of the socialist platform succeeding. This combination shaved away all the early January advance producing a fragile market.
2019 finished upbeat. Limited tax selling deferred gains forward into a 2021 payment, which helped markets grind higher through December. The key to performance came from earnings multiples advancing, up from 14x to more than 18x, with limited earnings increases. The price advance has either borrowed ahead or at a minimum put more pressure on advancing earnings for 2019. Improved sentiment followed, setting the stage for strong equity performance.​
S&P500:              December +2.86%,                 2019 +28.88%
DOW:                  December +1.74%,                2019 +22.34%
NASDAQ:           December +3.54%,                 2019 +35.23%
Russell 2000:    December +2.71%,                 2019 +23.72%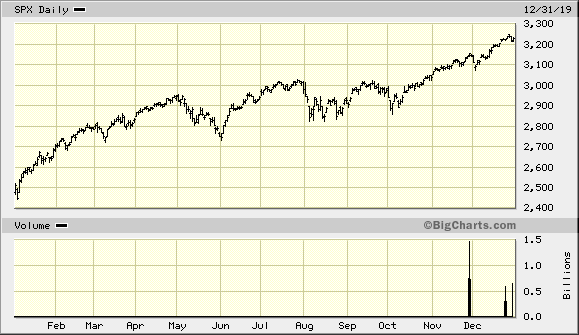 The picture for the new year is, generally, positive. A strong consumer….Supportive Fed policy….China trade policy headed for initial level of agreement….Little indication of recession….Signs of global economic improvement and finally, Brexit moving toward a resolution. The only new offsetting risk is the tussle with Iran, which is settling down.
Wall Street projects earnings in the +3%-5% area for 2020. The 10-Year U.S. Treasury will probably move in the 1.5%-2.5% yield range. We believe that should these numbers come to fruition, a market return of 5%-10% (including interest and dividends) is achievable in 2020.
The Fed's pro-growth policy has reinforced market optimism. There is little inflation in view and interest rates remain low. Wage increases have been absorbed so far. The current fiscal policy of easy money from the Fed (producing liquidity), coupled with support from Technology, are unique factors to developing the 2020 economic upturn. The wild card is the election. News related to it will produce volatility and significant swings in equity prices.
Projections for the full year are subject to change as the year develops. 2019 forecasts were widely off the mark with lower earnings offset by increased market multiples. Market moves develop in stages.

Q1 will start with the payroll report. This will indicate the pace of the current economic picture. This is followed quickly by corporate earnings. Super Tuesday is up next, developing the political landscape and the possible emergence of the Democratic candidate.

Remember, Trump's candidacy started off as a long shot and the eventual nomination and win were also. What a shift. This election has similar characteristics with the Democratic roster. It will require the same attention to portfolios and the requisite adjustments.

GN&Co is non-political. Our role, as stewards of our clients' assets, is to optimally position their portfolios to protect principal and profit according to client ground rules.
Non-farm payroll numbers this week will shed light on how the economy is developing. The release of corporate earnings results begins shortly. Our sense is the market, short-term, is ahead of itself and that a 3%-5% pullback wouldn't surprise. This would settle optimism and establish a baseline to further advance going forward. That's our view at this early stage.

Our sense is that 2020 is wide open, starting out slowly and progressing. We are optimistic but do not expect a repeat of last year.

We are always on guard to protect assets.
The stock market finished higher for the last four weeks of October, developing a modest breakout at 3,038 for the S&P500. The previous high of 3,025 on July 26th was finally pushed through.

For October, the Healthcare sector led performance at +5% for the month. Technology and Telecommunications were +3.81% and +2.73% respectively. Energy lagged at -2.26%.
S&P500:       October +2.04%, YTD +21.17%               DOW:                October +0.48%, YTD +15.94%
NASDAQ:     October +3.66%, YTD +24.97%               Russell 2000:    October +2.57%, YTD +15.86%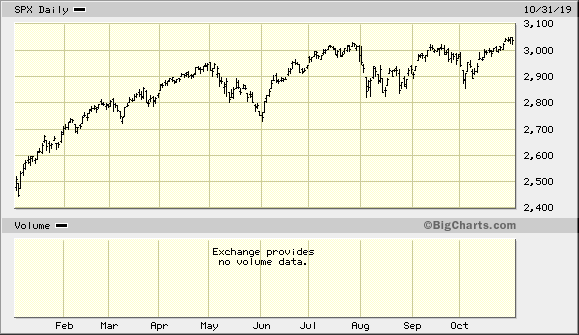 Stock prices finally muddled through long standing highs in the averages. The third Fed rate cut created potential support for the economy. Corporate earnings in Q3 were not great but acceptable. On average, down roughly -3% for the quarter.

A recent Barron's poll for market expectations concluded with only 27% bullish prospects, the lowest level in 20 years. The somewhat erratic trade with China calmed, developing optimism for a positive conclusion. The U.S. consumer benefits from higher asset prices; i.e. stock prices. Home prices increased +1% in September and are +6% YTD.

The mood of markets has shifted with this support. The assumption is that central bank backing will start to take hold in three to six months out, resulting in improved corporate earnings. Our expectation is earnings in the +4% range for 2020.
The 10-Year U.S. Treasury yield has declined 36% since January 1st, leading to lower interest rates across the board. As we all know, when yields decline pricing gains in bonds take place.

Our clients' fixed income portfolio gains have been materially enhanced with higher bond prices layered on top of portfolio equity gains.
The Fed has signaled a pause in further rate cuts but remain importantly accommodative. The market tone has turned. It is now supporting the view that global central bank stimulation will help promote more promising economic results starting in the 4th quarter.

The market question develops; Are we now pulling stock price increases forward, setting up for a pullback? Time will tell.

We have been participating in the improved market by purchasing equities which had already corrected and are well down from their respective highs. A positive but cautious strategy.
The information contained in this investment research has been compiled by Garrett Nagle & Co., Inc. from sources believed to be reliable. No representation or warranty, express or implied, is made by Garrett Nagle & Co., Inc. as to its fairness, accuracy or completeness. Garrett Nagle & Co., Inc. has not independently verified the facts, assumptions, and estimates contained herein. This communication is for informational purposes only and nothing herein should be construed as a solicitation, recommendation or an offer to buy or sell any securities or product. Garrett Nagle & Co., Inc., their officers, directors, employees or clients may have a position in any securities mentioned above. All estimates, opinions and other information contained in this investment research constitute Garrett Nagle & Co., Inc.'s judgment as of the date of this investment research, are subject to change without notice and are provided in good faith but without legal responsibility or liability. Investments in financial instruments carry significant risks, including the possible loss of the principal amount invested. Past performance is not a guarantee or indication of future results.
…
Garrett Nagle & Co., Inc. does not provide tax, accounting or legal advice. This e-mail and any attachments are not intended or written to be used, and cannot be used or relied upon, by any taxpayer for the purpose of avoiding U.S. tax related penalties or promoting, marketing or recommending to another party any transaction or matter addressed herein. This transmission may contain information that is privileged, confidential, legally privileged, and/or exempt from disclosure under applicable law. If you are not the intended recipient, you are hereby notified that any disclosure, copying, distribution, or use of the information contained herein (including any reliance thereon) is strictly prohibited. Although this transmission and any attachments are believed to be free of any virus or other defect that might affect any computer system into which it is received and opened, it is the responsibility of the recipient to ensure that it is virus free and no responsibility is accepted by Garrett Nagle & Co., Inc, for any loss or damage arising in any way from its use. If you received this transmission in error, please immediately contact the sender and destroy the material in its entirety, whether in electronic or hard copy format.