The sharp March decline in the market was followed by an optimistic reversal in April and reflected two different market views. As April closed, it was clear the V-shaped recovery was far too enthusiastic. Sentiment ran ahead of valuations. Fixed income recovered back to almost the March 23rd levels, thanks to the Fed's intervention.
S&P500:                 April +12.68%         YTD -9.85%              From Feb 19th High -13.99%
DOW:                     April +11.08%         YTD -14.69%            From Feb 12th High -17.62%
NASDAQ:              April +15.45%         YTD -0.93%              From Feb 19th High -9.45%
Russell 2000:       April +13.66%         YTD -21.45%           From Jan 16th High -23.14%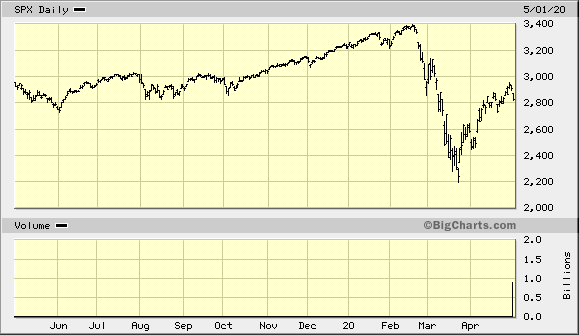 The five highest cash balance companies reported earnings in the last week of April. Apple, Facebook, Microsoft, Alphabet and Amazon, account for 20% of the S&P500 average. This is further represented in the NASDAQ's almost flat year-to-date performance as these companies ARE the top five in this index. Additionally, the composite is almost 50% Technology, a sector that has outperformed due to, again, a small handful of high-performance names. Their earnings were met with mixed investor reactions.
The search for a COVID19 vaccine took an important step forward with Gilead's drug Remdesivir showing measurable signs of shortening hospital stays and opening the door to an eventual solution for a vaccine.

States are developing detailed plans to open the economy. The pace will be slow and measured with ongoing adjustments as things unfold. The economic key is producing a vaccine to really lift the curtain.

Corporate buybacks and dividends will be impacted. Major banks, noted currently for solid balance sheets, took charges in Q1 and will do so again in Q2 to insure against new loan positions. We judge major banks will be clear of additional charges in Q3 & Q4, putting them back in a more respected market role.

Taxes will be increased soon for both state and Federal. The spending spigot will start to get attention and will need tax coverage. The left political shift in the country will move legislation in that direction.
The market has clearly gotten ahead of itself. Currently, the S&P500 is guessing at 2020 earnings projections. The March low was defining. GDP 2020 projections are -35% in Q2, +20% in Q3 and followed by +15% in Q4. Short-term will continue to be choppy. Liquidity will aid positive momentum as the year unfolds. The Fed is incredibly supportive and coupled with the U.S. Treasury will help control market direction.

Our view is a trading range. 2,650-3,000 for the S&P500 and will be in place for a time. As the economy reopens, markets will meander. The S&P500 currently at 2,912 (4/30/2020) will be protected on the downside at the 2,650 level, representing almost a 10% decline from recent highs.

Opportunities will be reshuffled. We are maintaining high cash holdings. Safeguarding assets is the top priority near-term.
The coronavirus foisted an unprecedented situation on the U.S. and global economies. The first quarter of 2020 is the worst quarter in market history. The Cruise lines, Hotel, Restaurant, Airlines and Energy industries as well as small-cap stocks were the most impacted. Financials are a close second.
S&P 500:                    QTD  -20.00%   From High -23.67% (2/19/20)
 
DOW:                          QTD  -23.20%   From High -25.83% (2/12/20)
 
NASDAQ:                   QTD  -14.18%   From High -21.57% (2/19/20)
 
Russell 2000:            QTD  -30.89%   From High -32.38% (1/16/20)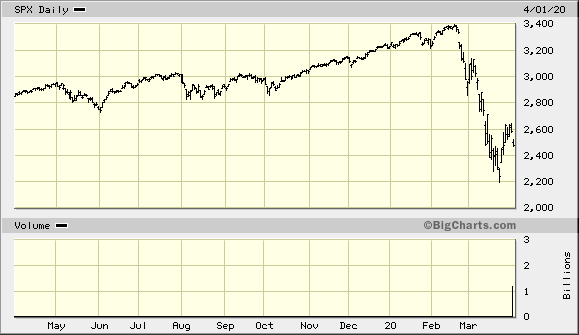 Recession is now inevitable. A decline of up to 30% in GDP for Q2 is most likely. We subscribe to a sharp quick drop with a reversal in Q3 with the rebound following into Q4.

Energy prices have fallen below $20 per barrel, promoted by the Saudi Arabia and Russia price conflict adding to the virus unrest. Supply broadly outstrips demand. Stability in oil prices will lighten economic pressure.
The country fraught with political wrangling has stepped up to the plate in a quick and unified fashion. Fed Chairman Powell, under critical pressure recently, moved remarkably fast to lower rates near zero percent, and added programs to shore up capital markets creating liquidity in high-yield and municipal fixed income trading. A turn in the bond market has started to take shape.

Secretary of the Treasury Mnuchin showing his business acumen, advanced through tireless negotiation the government's massive relief program. Governor Cuomo of New York came to the front in bipartisan fashion to become a leading Democratic figure in attacking the crisis. The government response has been extraordinary.
The best opportunity for the economy stabilizing centers on getting the coronavirus under control through medication. This week, the first real positive prospect for a viral solution came forward. Abbott Labs announced a 5-minute test response which will identify exempt patients. Johnson & Johnson registered progress on a vaccine to prevent COVID-19, which would be available in early 2021. Science and technology are rapidly moving forward.

The bond market is starting to demonstrate liquidity. The stock market responded with a brief rally of 16%, shaving the 33% loss. This raised the optimistic question of "Is the bottom in?" Our sense is we're in a volatile trading range. Grim statistics from COVID-19 numbers in the next 2-3 weeks will determine the answer.

The stock market anticipates future results in the economy. We are optimistic, after weathering tough numbers short-term, about turning positive going forward.
A note from Garrett Nagle & Co.
We want to assure clients that we have been attentive to shifting news flow and adjusting portfolios in your best interests. Our effort has been to increase cash across client accounts.

The picture has been demanding. Volatility began with the global virus, stressed capital markets and lastly the Saudi Arabia and Russia war on energy prices designed to thwart U.S. dominance in the area.

The Federal Reserve has stepped up, adjusting bond market distress and credit quality. The U.S. government, in bipartisan fashion, has quickly moved forward with financial bridges to help the labor market and keep the economy functioning. However, the high energy supply and low oil demand remains problematic.

Throughout the rapidly changing picture we have added to cash reserves and lowered market exposure even further. The tumultuous daily news has led us, in a short time frame, to reducing equity exposure in portfolios. Our plan is to keep the highest level of assets intact and wait for the turn.

We are positioned for the all clear signal. The key will be a prompt medical solution. Prospects are improving daily.

Please stay safe and well!
February 2019 Review - Surprise Action
The S&P500 faltered in the last three days of February but recorded the best two month start for the year in close to thirty years.
December 2018 registered a major downdraft for the S&P500 -9.18% and the DOW -8.66%, posting dramatic lows on Christmas Eve. The subsequent reversal rally of January and February caught investors off guard. Conventional market wisdom suggested that those who missed the early signs of the upswing would have a second chance at the retest of the December lows. A retest would confirm an established bottom.
Instead, the market moved up in a straight line from late December through the end of February. The Federal Reserve's easier stance toward 2019 rates solidified market response. The "wait and see" development coupled with the prospect of a favorable outcome in trade negotiations with China eliminated a retest and turned consumer confidence on the optimistic side. The retest never developed.
The global picture still poses potential problems. Europe, Japan and China are economically weak. U.S. corporate earnings are showing significant earnings decline. Q1 is apt to add up to less than 2% GDP growth…coupled with continued strong job creation, it will likely lead to 0% productivity growth. Low interest rates and the U.S. 10-Year Treasury at 2.73% (Feb-28) support the alternative to lower rates.
U.S. corporate earnings declined in Q1 while the S&P500 has marched forward. The S&P500 and DOW both stalled in the last three days of February and produced a positive reversal on Friday, March 1st.
Market action is relying on a resumption of growth later in 2019. Constructive news from the China negotiation could add another 5% to the averages. A pullback in the averages would likely follow.
We are closer to a modest pullback than a major upward swing. There is a lot of cash (best performing asset class in 2018) on the sidelines yet to participate. Memories of the December debacle returning keeps cash on the sidelines.
The S&P500 level of 2,800 has been addressed multiple times since early 2018 with no sustained success. Our sense is we are vulnerable to a modest pullback followed by improving results later in the year.
We expect a positive year in 2019.
First Quarter 2019 Overview
The S&P500 faltered in the last three days of February but recorded the best two month start for the year in close to thirty years.
February 19th the market recorded the top. Then the Coronavirus news abruptly changed the markets' narrative on the global economic picture. In the past week, the DOW average lost close to 4,000 points.

The downdraft was shocking and the fastest correction in market history. Last Friday, around noon, in 90 seconds the DOW average moved from a positive level to negative -1.50%.

The culprit has been the Coronavirus that started in China and has now spread to other parts of the world, including the U.S. The virus implications are economic and quickly shelved the picture of the U.S. economy turning up in early 2020 to a delayed recovery and recession avoidance.

Now if containment is ineffective, the U.S. will simply have to adjust. The implication for global growth is unsettled and subject to changes in virus headcounts.
S&P500:          Feb -8.41%,  YTD -8.56%             DOW:                     Feb -10.07%, YTD -10.96%
NASDAQ:        Feb -6.38%,  YTD -4.52%             Russell 2000:       Feb -8.53%,  YTD -11.51%
In early February, we were busy rebalancing client positions. Portfolio gains required adjustment from original allocations. Consequently, we shaved some securities and assigned proceeds to fixed income where appropriate.

We now have, firm-wide, 13% in Money Markets (Cash), 18% Bonds, 5% Preferreds, 64% in Equities. The percentages vary according to individual client and account ground rules. This distribution protected clients in the February pullback.
The Fed is in the forefront of developing global stimulus and today has cut the Fed Funds rate by 50 basis points. The U.S. dollar, which has weakened, will soften more benefiting U.S. corporations' overseas activities.

Several Wall Street firms have taken down estimates for the S&P500 earnings for 2020. New projections reflect a pullback from $175.00p.s. to $160.00p.s. with some predictions holding the 3,300-3,400 level for year-end results. The unclear supply chain support from China for U.S. prescriptions/products will impact forward results. The U.S. election is an additional variable for the 2020 investment scene outcome.

Pulling it altogether, we conclude that the virus will hopefully start to diminish by mid-year and, come fall, economic recovery will begin to emerge. This is a best-case scenario. In the interim, the market is not yet in the clear.
Our view is to be patient, maintain caution and wait for clarity. We are well positioned to do so. The market near-term will continue to be volatile with price swings. The market is not out of the woods.
The start of January 2020 fostered a shift in sentiment toward an improving economic scene in Europe, the U.S. and China, which markets reflected. The picture reversed as the month matured. The Coronavirus challenged economic stability, escalating with its spread through month-end.

Global economic numbers quickly came into question, pumping up Wall Street anxiety. Furthermore, Bernie Sanders' move in the Iowa polls advanced the possibility of the socialist platform succeeding. This combination shaved away all the early January advance producing a fragile market.
S&P500           January  -0.16%                           DOW               January   -0.99%
NASDAQ         January  +1.99%                          Russell 2000    January  -3.26%
The last week of January clustered reporting from four major companies followed by one more on Monday, February 3rd. The top five companies constitute 18% of the S&P500 average. Apple, Facebook, Microsoft, Amazon and Alphabet. Coming into the last week 33.3% of the S&P500 and NASDAQ were in correction, down 10% or greater, while also navigating the latest update on the Coronavirus.
Apple (AAPL), Facebook (FB), Microsoft (MSFT) and Amazon (AMZN) have all reported quarterly earnings.
Apple traded +2.09%, Facebook -6.13%, Microsoft +2.82% and Amazon +8.72% after posting. Apple has now given up the gains and is below it's pre-earnings pricing. Facebook continues to trade lower and Microsoft is slowly giving up the post-earnings gain…pretty good results.
Fear of the Coronavirus spreading prompted in January a significant increase in negative interest rates. Rates continue to remain low which is positive for the $23 Trillion of U.S. government debt. Yields in Japan and Europe retreated below zero while the 10-Year U.S. Treasury slipped to a 1.5% yield range.

Global economies are now addicted to low interest rates and will likely continue or face dampening economic growth. The impact of low rates is material on senior savings for retirement, pension funds and insurers with unattainable interest projections.

Central banks have become comfortable with low interest, but the massive growth of debt looms off in the future. Ironically, low debt can't foster economic growth above 2% and caps inflation.
Economic prospects in the U.S. are still promising. Assuming the Coronavirus is controlled, 4th quarter 2019 earnings are encouraging entering 2020. Liquidity provided by the Federal Reserve is major support. The next important impact will be a close election. The first week of February will focus on China's update on virus numbers combined with Sanders results in Iowa.

January Purchasing Managers Index (PMI), released early Feb 3rd, advanced 3.1% to 50.9%. This exceeded expectations. Our sense is the U.S. market is best described as in a mini correction with no sign of a real recession.

Our strategy is to pause and wait for markets to settle. We are well positioned and watching our holdings closely.
The start of January 2020 fostered a shift in sentiment toward an improving economic scene in Europe, the U.S. and China, which markets reflected. The picture reversed as the month matured. The Coronavirus challenged economic stability, escalating with its spread through month-end.

Global economic numbers quickly came into question, pumping up Wall Street anxiety. Furthermore, Bernie Sanders' move in the Iowa polls advanced the possibility of the socialist platform succeeding. This combination shaved away all the early January advance producing a fragile market.
2019 finished upbeat. Limited tax selling deferred gains forward into a 2021 payment, which helped markets grind higher through December. The key to performance came from earnings multiples advancing, up from 14x to more than 18x, with limited earnings increases. The price advance has either borrowed ahead or at a minimum put more pressure on advancing earnings for 2019. Improved sentiment followed, setting the stage for strong equity performance.​
S&P500:              December +2.86%,                 2019 +28.88%
DOW:                  December +1.74%,                2019 +22.34%
NASDAQ:           December +3.54%,                 2019 +35.23%
Russell 2000:    December +2.71%,                 2019 +23.72%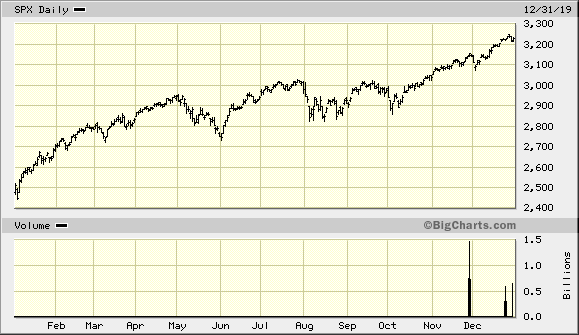 The picture for the new year is, generally, positive. A strong consumer….Supportive Fed policy….China trade policy headed for initial level of agreement….Little indication of recession….Signs of global economic improvement and finally, Brexit moving toward a resolution. The only new offsetting risk is the tussle with Iran, which is settling down.
Wall Street projects earnings in the +3%-5% area for 2020. The 10-Year U.S. Treasury will probably move in the 1.5%-2.5% yield range. We believe that should these numbers come to fruition, a market return of 5%-10% (including interest and dividends) is achievable in 2020.
The Fed's pro-growth policy has reinforced market optimism. There is little inflation in view and interest rates remain low. Wage increases have been absorbed so far. The current fiscal policy of easy money from the Fed (producing liquidity), coupled with support from Technology, are unique factors to developing the 2020 economic upturn. The wild card is the election. News related to it will produce volatility and significant swings in equity prices.
Projections for the full year are subject to change as the year develops. 2019 forecasts were widely off the mark with lower earnings offset by increased market multiples. Market moves develop in stages.

Q1 will start with the payroll report. This will indicate the pace of the current economic picture. This is followed quickly by corporate earnings. Super Tuesday is up next, developing the political landscape and the possible emergence of the Democratic candidate.

Remember, Trump's candidacy started off as a long shot and the eventual nomination and win were also. What a shift. This election has similar characteristics with the Democratic roster. It will require the same attention to portfolios and the requisite adjustments.

GN&Co is non-political. Our role, as stewards of our clients' assets, is to optimally position their portfolios to protect principal and profit according to client ground rules.
Non-farm payroll numbers this week will shed light on how the economy is developing. The release of corporate earnings results begins shortly. Our sense is the market, short-term, is ahead of itself and that a 3%-5% pullback wouldn't surprise. This would settle optimism and establish a baseline to further advance going forward. That's our view at this early stage.

Our sense is that 2020 is wide open, starting out slowly and progressing. We are optimistic but do not expect a repeat of last year.

We are always on guard to protect assets.
The stock market finished higher for the last four weeks of October, developing a modest breakout at 3,038 for the S&P500. The previous high of 3,025 on July 26th was finally pushed through.

For October, the Healthcare sector led performance at +5% for the month. Technology and Telecommunications were +3.81% and +2.73% respectively. Energy lagged at -2.26%.
S&P500:       October +2.04%, YTD +21.17%               DOW:                October +0.48%, YTD +15.94%
NASDAQ:     October +3.66%, YTD +24.97%               Russell 2000:    October +2.57%, YTD +15.86%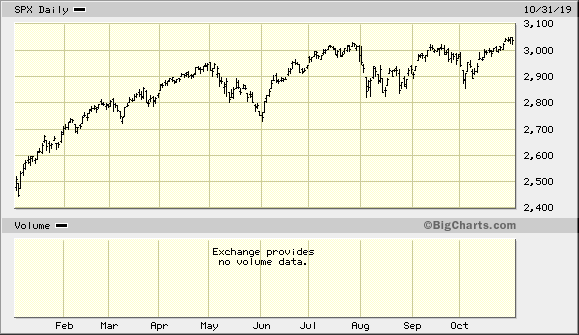 Stock prices finally muddled through long standing highs in the averages. The third Fed rate cut created potential support for the economy. Corporate earnings in Q3 were not great but acceptable. On average, down roughly -3% for the quarter.

A recent Barron's poll for market expectations concluded with only 27% bullish prospects, the lowest level in 20 years. The somewhat erratic trade with China calmed, developing optimism for a positive conclusion. The U.S. consumer benefits from higher asset prices; i.e. stock prices. Home prices increased +1% in September and are +6% YTD.

The mood of markets has shifted with this support. The assumption is that central bank backing will start to take hold in three to six months out, resulting in improved corporate earnings. Our expectation is earnings in the +4% range for 2020.
The 10-Year U.S. Treasury yield has declined 36% since January 1st, leading to lower interest rates across the board. As we all know, when yields decline pricing gains in bonds take place.

Our clients' fixed income portfolio gains have been materially enhanced with higher bond prices layered on top of portfolio equity gains.
The Fed has signaled a pause in further rate cuts but remain importantly accommodative. The market tone has turned. It is now supporting the view that global central bank stimulation will help promote more promising economic results starting in the 4th quarter.

The market question develops; Are we now pulling stock price increases forward, setting up for a pullback? Time will tell.

We have been participating in the improved market by purchasing equities which had already corrected and are well down from their respective highs. A positive but cautious strategy.
The information contained in this investment research has been compiled by Garrett Nagle & Co., Inc. from sources believed to be reliable. No representation or warranty, express or implied, is made by Garrett Nagle & Co., Inc. as to its fairness, accuracy or completeness. Garrett Nagle & Co., Inc. has not independently verified the facts, assumptions, and estimates contained herein. This communication is for informational purposes only and nothing herein should be construed as a solicitation, recommendation or an offer to buy or sell any securities or product. Garrett Nagle & Co., Inc., their officers, directors, employees or clients may have a position in any securities mentioned above. All estimates, opinions and other information contained in this investment research constitute Garrett Nagle & Co., Inc.'s judgment as of the date of this investment research, are subject to change without notice and are provided in good faith but without legal responsibility or liability. Investments in financial instruments carry significant risks, including the possible loss of the principal amount invested. Past performance is not a guarantee or indication of future results.
…
Garrett Nagle & Co., Inc. does not provide tax, accounting or legal advice. This e-mail and any attachments are not intended or written to be used, and cannot be used or relied upon, by any taxpayer for the purpose of avoiding U.S. tax related penalties or promoting, marketing or recommending to another party any transaction or matter addressed herein. This transmission may contain information that is privileged, confidential, legally privileged, and/or exempt from disclosure under applicable law. If you are not the intended recipient, you are hereby notified that any disclosure, copying, distribution, or use of the information contained herein (including any reliance thereon) is strictly prohibited. Although this transmission and any attachments are believed to be free of any virus or other defect that might affect any computer system into which it is received and opened, it is the responsibility of the recipient to ensure that it is virus free and no responsibility is accepted by Garrett Nagle & Co., Inc, for any loss or damage arising in any way from its use. If you received this transmission in error, please immediately contact the sender and destroy the material in its entirety, whether in electronic or hard copy format.